Account Alert
If you are the owner or administrator of this site, please Login now for important account information.

Not involved in the administration of this site? Please disregard this message.Please Click here to dismiss this alert.
FREESERVERS IS A UNITED ONLINE COMPANY
Copyright © 2016 United Online Web Services, Inc. All rights reserved.
Eekstinction Central
Save Eek! the Cat from becoming Eekstinct!

---
Please wait a few seconds for the ad on the right to scroll out of the way.
Click on your browser's "Back" button to return to the website you were
previously viewing when you are done here.

Welcome to Eekstinction Central!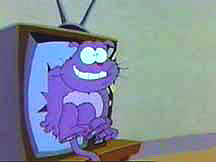 The purpose of this website is to gather names for an "e-petition" to be sent to Disney asking them to rerun the Eek! the Cat (later known as "Eek! the Cat and the Terrible Thunderlizards" and even later as "Eekstravaganza") shows that originally aired from 1992 to 1997 on Fox Network affiliate staions (and rerun until 2000) and/or ask Disney to release the entire collection of five seasons of Eek! the Cat, Terrible Thunderlizards and Klutter episodes on DVD format discs.
Originally this petition was to be sent to Fox Broadcasting but it has since been discovered that Fox sold a package called "Fox Family Worldwide" to Disney, therefore this petition is now directed to the Disney company rather than Fox. Those of you who have already sent in your submission to this petition need not resend your email. Your original email will be sent to Disney rather than Fox.
Please read this entire page before making your submission to this petition.

How can I help?
To join in this effort all you need to do is send an email to:

saveeek@safe-mail.net and be SURE to use the subject "we want eek" WITHOUT the quotation marks -- just plain lower case like this:
we want eek
THIS IS IMPORTANT! If you don't use this EXACT SUBJECT in your email "Subject" field it will be automatically trashed! I can't believe how many emails we have received with the wrong subject! We have automated the process so they just get deleted if the subject is not - we want eek -

In your email please state something to the effect that you would like to see Eek! the Cat on TV again and/or you would like to be able to purchase DVDs or VHS tapes of the Eek! the Cat, Terrible Thunderlizards and Klutter episodes from the Eek! the Cat show. Or, just express your desire to see Eek! again in whatever format you like.
Please DO NOT make demanding or threatening or hateful remarks in your email! Be polite and just express your desire to see the Eek! the Cat show again on TV and/or DVD discs or VHS tapes. Keep it short, nice and to the point. Also, please don't send more than one email from any given email address as this would serve only to decrease the credibility of the petition. Some effort will be made to check for multiple submissions.
You must include your name in the email. You do not need to include any personal contact information if you would rather not, but you may include any personal information you feel comfortable sending. A petition is more convincing and powerful if you supply an address or other contact information, but we do not require that you do so in order to have your submission included. See the section on privacy below.
What happens to my email?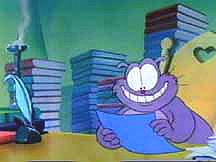 Periodically, your email and those of (hopefully) many others will be printed out and the printed copies will be sent to Disney by U.S. Mail by the owner of this site. Hardcopy mail is the most effective way to get their attention. Keep in mind that your email will not be forwarded electronically, but rather, it will be printed on paper and sent by snail mail. This means that your email address won't be automatically put on anyone's list.

The emails will be mailed to Disney when a sufficient number (to be determined by this site's owner) of them are gathered.

What about my privacy?
Along with the package of emails sent to Disney, there will be a declaration stating that the names and email addresses and any other personal information that you submit in your emails may not be used in any manner by Disney and/or their associated companies and/or third parties for any purpose other than to be counted on this petition. Your privacy will be declared as inviolable and Disney MUST, by law, respect such a request for privacy. If you are not comfortable using your personal email address in this manner, please consider opening a free web-based email account just for this purpose. Many free email websites exist and can be found through a web search and creating an anonymous email account is quite easy.

The owner of this website also promises to protect your privacy in every way possible to the best of his ability. We are absolutely against spam and any other form of unsolicited intrusions into your privacy and ours. Any spam sent to the email address given above on this page will be dealt with aggressively and forwarded as a complaint of unsolicited commercial email to the Federal Trade Commission at uce@ftc.gov.

Will this petition do any good?
I don't know! Probably not. We can only try and hope!

We will post any responses that we get from Disney as a result of our petition on this site.

Status
In this section of this page the history and current status of this petition will be kept reasonably updated. Additional status types may be added as this effort proceeds.

This website for this petition began December 23, 2002.
Last update: January 2, 2005
| | |
| --- | --- |
| Number of emails received as of last update | 580 |
| Number of emails printed | 337 |
| Number of emails sent to Disney | 0 |

Thanks for visiting this site!
We hope you will join in this effort to make the Eek! the Cat show available to the public again. The first mailing to Disney may be a long ways down the road. It depends on how many people find and respond to this site. Tell your friends and please put a link to this page on your website.

You have advanced the hit counter to 34235

Click on your browser's "Back" button to return to the website you were
previously viewing.
---
This website is not affiliated with Disney or Fox Broadcasting or any of their associated companies. "Eek! the Cat", "The Terrible Thunderlizards" and "Klutter" are copyrighted properties of Disney.